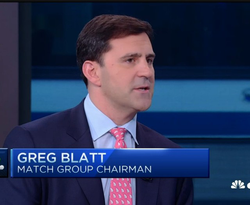 Greg Blatt has a B.A from Colgate University. Over the years, he has been an associate in different law firms. Grubman Indursky & Schindler and Wachtell, Lipton, Rosen & Katz, among other two New York law firms. Greg Blatt is currently in charge of strategic leadership at IAC.
Before this role, he served as an EVP, General Counsel, and secretary at Martha Stewart Living Omnimedia. In his position, he oversaw all the companies transactional and legal activities. Greg Blatt currently serves as the Chief Executive Officer of IAC's Match segment, responsible for overseeing Chemistry.com and Match.com.
Greg Blatt's career
Over the years, Blatt saw a gap in the online industry dating sites. With this in mind, his leadership at Match.com led to the growth of the dating site commonly referred to as Tinder. It is a popular dating site among individuals. Tinder has become a worldwide phenomenon setting foundations for other dating applications to develop. The intuitive moves that he possesses have made him build his career to where it right now.
Greg Blatt believes in face-to-face meetings. Through this type of meeting, he can ask questions, interrogate and spur new ideas, and limit his meetings in a day, attending one where the action is needed. He attributes to having a great team that enables him to bring ideas to life.
Additionally, empowering the team to bring the said ideas to life. The entrepreneur believes in the why factor. Always asking why to every idea brought forth to him. Through this kind of approach, it has spurred innovation and enhancing the way things are done.
Major attributes
Greg Blatt encourages individuals never to stop asking questions. Greg Blatt encourages every entrepreneur to keep questioning something until it's too late to make a change. While at it, keep learning, and eventually, success prevails. Additionally, staying flexible and learning from the failures has enabled the building of other businesses. Visit this page to learn more.
Additional information about Blatt on https://www.crunchbase.com/person/greg-blatt